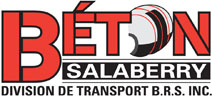 In 2008, the plant located at St-Stanislas-de-Kostka started operating as Béton Salaberry (div. of Transport B.R.S. Inc.) under the Groupe Corbeil's banner, in order to fulfill the Suroît region's growing demand in concrete. The geographical location of this plant, on the outskirts of the new Highway 30 gives it a unique access to job sites in the Vallée-du-Haut-Saint-Laurent area.
This advantage, combined with a highly experienced and dedicated team, has allowed Béton Salaberry to make a difference with its customers.
The beginning of 2015 sees the installation of a new silo for GUb-SF cement powder (a Portland silica fume cement), allowing Béton Salaberry to meet market demands by providing a low-permeability and highly resistant concrete. As far the year 2016, it is marked by the obtention of the BNQ certification of conformity as per the NQ 2621-905 certification protocol requirements.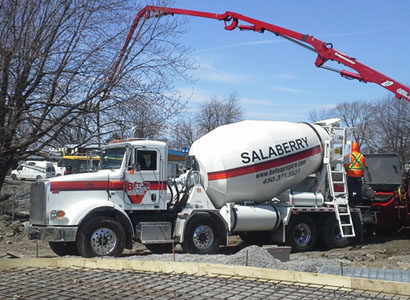 ---
CONTACT US FOR MORE INFORMATION:
Yvon Hart
Sales representative
Tél: (450) 371-5551 ext. 6101
Cell: (450) 801-5551
@: betonsalaberry@groupecorbeil.com
Plant location:
190 Route 132, St-Stanislas-de-Kostka, Qc
---

REGIONS SERVED:
Located on the outskirts of Salaberry-de-Valleyfield, this plant can service all of the townships of the Haut-Saint-Laurent, from Dundee to Howick, passing through Huntingdon, Vaudreuil-Soulanges, Beauharnois as well as the West Island of Montreal.


---
PRODUCTS OFFERED:
GU Portland cement concrete mix
GUb-SF Portland cement concrete mix
LEED® certification concrete mix
Mortar cement
Backfill concrete
Special concretes :

roller-compacted
expansive
exposed aggregate
fiber reinforced (polypropylene and structural)
waterproof
shotcrete
decorative (colored) and stamped
cellular (lightweight)
self-leveling (SLC)
anti-leaching
self-placing
high performance (HPC)
---
TYPES OF PROJECTS:
residential
commercial
industrial
agricultural
---