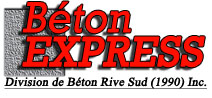 Béton Express (div. de
Béton Rive-Sud (1990) Inc.
) is the Groupe Corbeil's most recent acquisition. It's in 2012, under a new administration that this plant located in Laval sees the day to serve the previously inaccessible areas of Laval and the North Shore of Montreal.
Béton Express detains an undeniable advantage thanks to the diversity of its concrete mixer fleet. Our 10-wheelers have the ease of accessing difficult jobsites that are unsuitable for 12-wheelers. Combined with a professional team, this valuable asset assures customer satisfaction. Furthermore, since january 2016, Béton Express has obtained its BNQ certification as per the quality  requirements of the NQ 2621-905 certification protocol of the Bureau de Normalisation du Québec.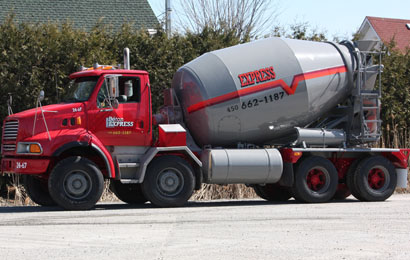 CONTACT US FOR MORE INFORMATION:
Patrice Mayer
Director of operations
Tel: (450) 649-2040 poste 6206
Cell: (514) 968-3476
@: betonrivesud@groupecorbeil.com

Laurent Bernier St-Pierre
Sales representative
Tel: (450) 662-1187
Cell: (514) 863-1187
@: betonexpress@groupecorbeil.com

Plant location:
755 boulevard St-Martin Ouest, Laval, Qc
---

REGIONS SERVED:
Located on St-Martin boulevard West in Laval, Béton Express can deliver to the Greater Montreal area and the North Shore, from Mirabel in the East going through Prévost in the North, and reaching out to Saint-Roch-de-l'Achigan in the West.

---
PRODUCTS OFFERED:
GU Portland cement concrete mix
Mortar cement
Backfill concrete
Special concretes :

roller-compacted
expansive
exposed aggregate
fiber reinforced (polypropylene and structural)
waterproof
shotcrete
decorative (colored) and stamped
cellular (lightweight)
self-leveling (SLC)
anti-leaching
self-placing
high performance (HPC)
---
TYPES OF PROJECTS:
residential
commercial
industrial